*This post may contain affiliate links for which I earn commissions.*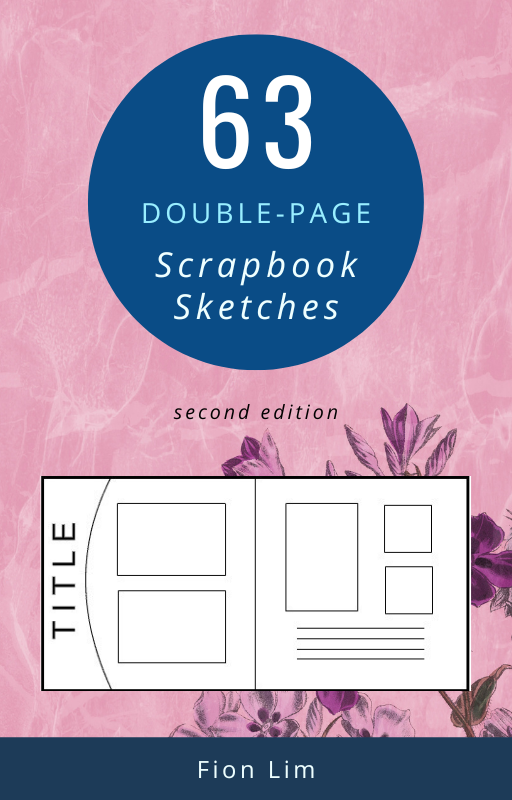 2023 Update: 63 Double-Page Scrapbook Sketches ebook was first published in 2010. I've made several updates to the ebook and it's now in its second edition.
Inside this ebook, you'll discover 63 sketches for you to use in your personal scrapbooking projects. These sketches will give you endless hours of fun and possibilities!
Armed with these sketches, you don't have to stare aimlessly at your blank scrapbook papers anymore. With single-page sketches, a balanced look is easy to achieve. But creating double-page layouts can be a challenge because you're dealing with more photos and a bigger piece of "real estate".
When you don't know where to place your photos and elements to achieve a balanced look, precious minutes or even hours can be easily wasted away.
So here's where double-page sketches come in. They can be a very helpful tool for you, especially if you are a beginner. If you use sketches, there's no more wasting minutes or even hours as you wonder how best to piece together a pleasing two-page spread scrapbook layout.
Just imagine how your wasted time could have been used to create more new pages! Try using these sketches and experience for yourself how they take away the layout arrangement guesswork, let you scrapbook faster, and give you more time for creative play.
With a collection of 63 sketches for you to choose from, you simply decide on which sketch to use and you are well on your way to playing around with your photos, paper, embellishments, and creating attractive scrapbook pages that wow your friends and family.
Take a look at one of the scrapbook layouts I've created based on Scrapbook Sketch No. 2 from the ebook.
Scrapbook Sketch No. 2
I've followed the sketch rather closely with little variations. Instead of a concave title design, I changed it to a straight-down torn paper edge. I've matted the two photos on the left, and I've added a few elements to add more spark to the layout.
Here's another layout I've put together based on Scrapbook Sketch No. 32 from the ebook.
Scrapbook Sketch No. 32
Once again, I followed the sketch very closely except for the photo strip on the left, instead of four photos I used only three, and I didn't place the four photos on the right on a big square mat.
To see more samples of my two-page sketches, click here!
If you've enjoyed the sample sketches and feel that these sketches will help you create more eye-pleasing layouts and slash your scrapbooking time, you can buy the entire collection of 63 scrapbook sketches as an instant download now.
Available Now As an Instant Download
I'm excited to offer you 63 Double-Page Scrapbook Sketches as an instant download at $12! That works out to 19 cents per sketch. As a downloadable ebook, there's no shipping fee, no waiting time and it doesn't matter where you are in the world.
Please note that there's no physical book but as an instant download, you can print out the whole ebook on your home computer if you like a hard copy of it.
Each of these sketches allows you the freedom to create as many scrapbook pages as you like. If there's a sketch that you particularly like, feel free to apply it to your different layouts. Don't worry, each of your layouts will look deliciously one-of-a-kind even though you might be using the same sketch over and over again because the photos, selections of papers, and embellishments that you use on each layout will be different!
Once you download the ebook, you can have the convenience to browse through these sketches offline even without an Internet connection. And if you choose to print it out, you can have the entire sketch collection of 63 sketches at your fingertips wherever you are.
This eBook Contains All of the Following
63 Double-Page Scrapbook Sketches organized according to the number of photos with measurements listed in accompanying descriptions.
12 Bonus Double-Page Scrapbook Sketches with photo measurements listed on the sketches. These 12 brand-new sketches have never been featured on this website or anywhere else!
Easy-to-use Table of Contents that leads you to exactly what you are looking for.
75 Sketches at A Glance – A 12-page section containing all 75 sketches (including 12 bonus sketches) in compact sizes organized according to the number of photos that you can print out for your convenience without having to print out the entire ebook.
Total of 75 sketches for endless possibilities to creating beautiful scrapbook pages:
2 sketches for a 4-photo layout
5 sketches for a 5-photo layout
9 sketches for a 6-photo layout
10 sketches for a 7-photo layout
7 sketches for an 8-photo layout
10 sketches for a 9-photo layout
7 sketches for a 10-photo layout
5 sketches for an 11-photo layout
5 sketches for a 12-photo layout
5 sketches for a 13-photo layout
2 sketches for a 14-photo layout
8 sketches for >14-photo layout
What Happens When You Click the "Buy Now" Button?
Once you click on the "Buy Now" button on this page, a new window tab will open up and a secure order form will pop up where you can pay via PayPal/Debit or Credit Card. Upon payment, you will be directed to a secure page to download your copy of the 63 Double-Page Scrapbook Sketches ebook to your computer.
You will also receive an email with a secure download link. With the download link, you then click on it to save the ebook file to your computer/smartphone/tablet.
I hope you'll have as much fun and satisfaction using these scrapbook sketches as I've enjoyed creating them!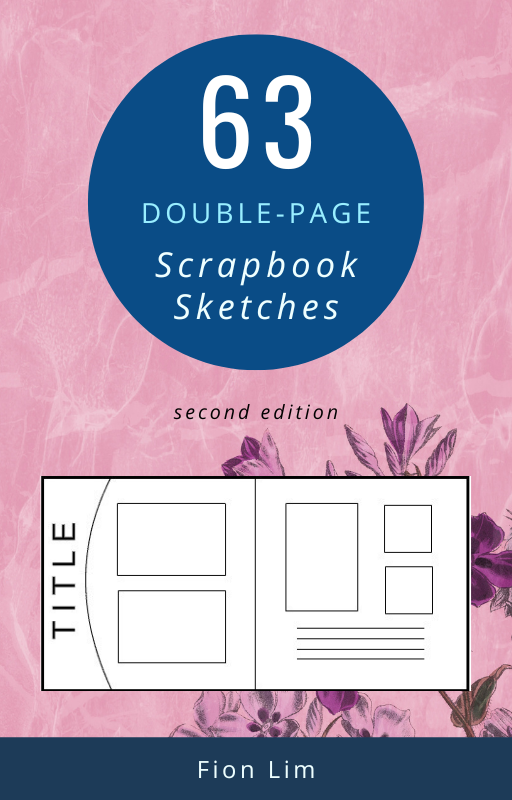 Credits for "Be Yourself" layout:: Background papers: So Krafty by Krystal Hartley, Truly Red by Krystal Hartley; Elements: Deco Disc, True by Krystal Hartley, Folded Paper Strip, True by Krystal Hartley; Alpha: Computer font for the title, Courier New for text, Aharoni for date
Credits for "6 Months Young" layout: Background papers: Yellow patterned paper – Paper 3 by Twoboyz00, Blue patterned paper – Paper 8 by Twoboyz00; Alpha: Narkisim for the title, Segoe Print for text