*This post may contain affiliate links for which I earn commissions.*

To help you get started on this wonderful hobby, let's look at the basic makeup of scrapbooking layouts and see what are the usual elements included in a page.
You'll quickly notice that most scrapbook layouts will contain most of the elements listed below. These are sort of the "standard" elements.
But of course, you don't have to use all the elements at the same time. Usually, it's a matter of picking and choosing elements that best help you convey the story you want to tell.
Get to know these essential elements and then go about experimenting with using as many or as few of them on your scrapbook pages.
I used to have another example layout that I created many years ago featured below. But I've replaced it with a new layout I created in 2023 and I've numbered the different parts of it to highlight the components that are generally included in a scrapbook page.
Basic Elements of a Scrapbook Layout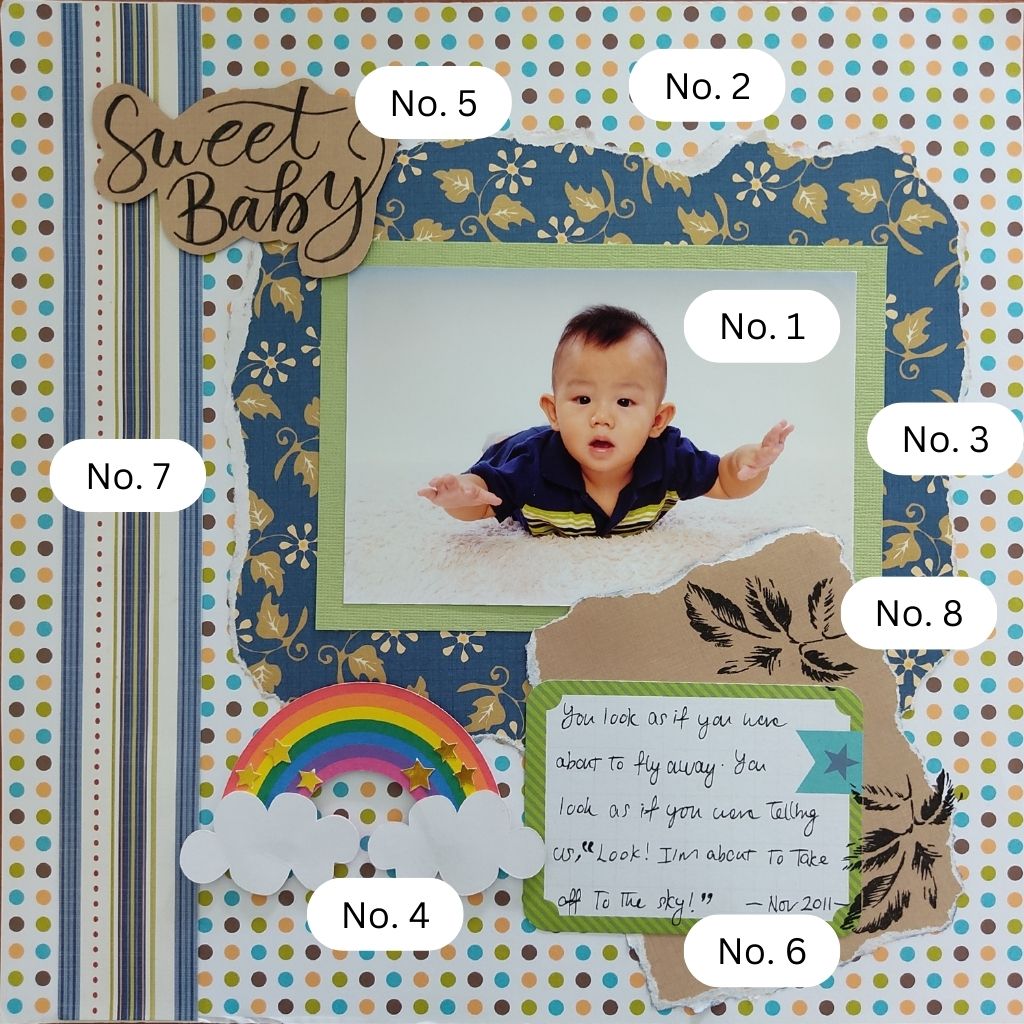 1) Photos
Photos are the essence of scrapbook layouts. They are the focal point of a layout and the main element. You can vary them in size, shape, and placement, depending on the design and importance of each photo.
Most scrapbooking pages will have at least one or multiple photos on them.
That said, occasionally, you can create an effective layout without a stitch of a photo where the emphasis is mainly on journaling.
2) Background
The background serves as the foundation, the backbone, of the layout.
It can be a single-colored paper, patterned paper, textured cardstock, or even a customized background created through techniques like ink blending, stenciling, or mixed media. Here's where you can get as fanciful or as minimalist as you like.
3) Paper Layers
Paper layers are used to frame and mat the photos, adding depth and dimension to the layout. What are the choices here? Well, you can include patterned papers, cardstock, vellum, or specialty papers. What's even more fun is that the layers can be stacked, torn, or shaped to create interesting visual arrangements.
As seen in the above layout example, the torn patterned paper layer underneath the photo creates an all-around border that helps to frame the photo featuring my then 9-month-old baby boy.
A photo mat can be made of cardstock, patterned paper, acrylic paint, and other decorative elements. A mat can also be thin, thick, dimensional, flat, plain, or elaborate depending on the effect you want to achieve.
In my example, I picked a light green color cardstock to mat the photo, and the color is pulled from the color scheme of my son's polo shirt.
You don't have to mat all the photos. You can just mat your main photo or you can even skip it.
If you want a more "boxy" look to your layout, you can choose to mat all the photos and then double or triple-mat the focal-point photo for extra attention.

DCWV Cardstock Matstack, Jewels, 87 Sheets, 4-1/2 x 6-1/2 inches

4) Embellishments
Embellishments, also known as page accents, are used to dress up a scrapbook page. They are decorative elements that add visual interest and texture to the page.
They include stickers, die-cuts, chipboard shapes, brads, buttons, ribbons, washi tape, and more. To enhance the attractiveness of the page, embellishments are often chosen to match the theme or complement the photos.
Page accents should support the page theme and not overwhelm and take attention away from the photos.
Fun fact: For my example layout, the rainbow paper die-cut is something that I saved from the one-year-old birthday party of my cousin's daughter! I had it in my storage for several years and now it's 2023 and I finally put it to good use when creating this layout.

360 Count Self-Adhesive Acid Free Photo Corners for Scrapbooks Memory Books (Multicolor)


Agwut 48 Sheets Watercolor Fantasy Scrapbook Washi Paper Stickers Set for Junk Journal, Scrapbooking Planner, Notebook, DIY Arts Crafts

5) Titles
A page title helps to personalize each layout and include words that highlight, summarize, or suggest the page theme on a layout. You can use names or famous sayings or simple phrases as titles.
A title doesn't always have to be at the top of the layout. It can be placed anywhere as long as it catches the viewer's attention. Normally, the viewer's eyes will scan the layout for the title when looking at a page.
There are many ways to create page titles. Some ways of creating a title: handwrite or stamp it, use computer-generated fonts, use stencils to draw it out, use alphabet stickers, use acrylic paint to write it out, adhere die-cut letters, or even use hand-lettering as I did for my title as shown in the layout above.

Nicpro Alphabet Letter Stickers 20 Sheet Self Adhesive ABC Sticker 10 Colors Vinyl PU Leather Metallic Finish for DIY Scrapbook Birthday Card Craft Lettering

6) Journaling
Usually, journaling involves writing down memories, stories, or sentiments related to the photos. This is the text that expands, gives context, or explains the story of the photos. However, journaling doesn't have to be related to the event of the photos all the time.
You can write out short descriptions including names and dates, heartfelt letters, captions, basic information, quotes, lyrics, and even poems.
You can write directly on the background paper if it's plain. You can also write in journaling boxes created from cardstock, patterned papers, vellum, or other textured papers.
In my example layout, to make the journaling tag stands out more from the busy background paper, I pasted the journaling tag on top of a piece of light brown patterned paper with torn edges. This piece of patterned paper is actually the flip side of the blue and green floral patterned paper layered underneath it. That's the fun of using double-sided patterned paper.
Sometimes, your journaling is very personal and you might prefer to keep it more private. In such instances, you can find ways to conceal your journaling. For example, you can slide your text into an inconspicuous pocket or create a discreet lift-up flap to hide your text.

SAKURA Pigma Micron Fineliner Pens – Archival Black Ink Pens – Pens for Writing, Drawing, or Journaling – Assorted Point Sizes – 6 Pack

7) Borders
Borders add visual interest to anywhere you decide to place it. Borders are used to highlight photos or create visual boundaries on the page.
There are many ways to create interesting borders. You can use a variety of materials to create a page border such as paper strips, patterned papers, fabrics, washi tape, or decorative borders. You can even embellish the borders using photos and text.
For my example layout, I simply cut out a thick strip from a blue-striped patterned paper and adhered it to the left side of the layout to form a page border.

50 Rolls Washi Tape Set, Decorative Adhesive Tape for Scrapbook, Arts & Crafts, Journals, and Planners, Each Rolls 5yd Total 250yd

8) Stamped Images or Patterns
This is something extra, it's optional. But stamped images or patterns can add a decorative flair to the layout.
You can use stamps to create backgrounds, accents, or focal points. They allow you to customize and coordinate with the theme and color scheme of the page.
For my example layout, I stamped two leaves on two parts to frame the journaling tag.

Kwan Crafts Leaves Clear Stamps for Card Making Decoration and DIY Scrapbooking

All these elements work together to create a visually pleasing and meaningful scrapbook layout. However, do remember that scrapbooking is a creative and personal endeavor, and don't worry about varying the number of elements used on your layout. Ultimately, it's based on your individual style, preferences, and the specific story being told.
Okay, now that you know the essential elements of scrapbooking layouts, you're ready to have fun and get started on creating your first layout! Be sure to check out my article How to Scrapbook: Creating a Layout from Start to Finish to see how I created the above sample layout step by step with photos.