*This post may contain affiliate links for which I earn commissions.*

With so many scrapbooking supplies, products, and tools in the market to help scrapbookers in their creative process, you might need some suggestions on what beginner scrapbook materials to get.
So do check out our Top Ten must-have supplies listed below. I believe these are essential/basic supplies and materials that most scrapbookers can't live without.
I've curated a list of some of the bestsellers under each product category that you can take your pick from. I believe this beautiful collection of supplies will be wonderful for your crafting projects. Included below are some crowd favorites from various well-known brands.
Okay, so here are our Top Ten basic scrapbook supplies:

1. Cardstock/ Solid Colored Papers
Clearly, the most important scrapbooking supplies you will need is the scrapbooking paper itself besides photos. Remember to choose acid-free and lignin-free papers if you want your scrapbooking to last for years without the papers turning yellowish and damaging your precious photos.
For papers, there are cardstocks (solid heavyweight papers) and patterned papers.
Cardstock is a must-have for your supplies collection. It's easy to use and should be a constant supply you'll be using.
For cardstock, there are those which come with "white cores". When you do paper tearing, the torn line that appears is white and therefore more obvious. Others come in same-colored cores, meaning even when you tear them, the torn line is the same color as the cardstock.
A cardstock can form the background paper or you can use it to mat your photo. So yes, cardstock is an important element in your scrapbook layout. Do choose colors and textures that match your photos well.
2. Patterned Paper
Patterned paper comes in a huge range of designs, themes, weights, textures, and whether they are single-sided or double-sided.
They can form the functional foundation of your page or become a decorative element in your layout.
Tip: Think of your theme or occasion and that'll give you a better idea of what colors or patterns to pick out.
3. Adhesives
Adhesives are what hold your photos, title, journaling blocks, ribbons, buttons, chipboard accents, or whatever you choose to stick to your page. So no, your scrapbook supplies collection won't be complete without an adhesive of some sort.
And they come in various formats. From double-sided adhesive, tape runner, glue dots, glue stick to liquid glue. So the deciding factor on which type of adhesive to use would be the intended surface. Check out the manufacturers' descriptions.
If you want to prevent the photo frames or embellishments on your layouts from appearing too flat, sometimes double-sided foam strips would be great at adding dimension to your layouts.
Keep in mind that you're building memories here, so you'll want to choose an adhesive that lasts for years. You won't want to see your photos falling off your wonderful scrapbook layouts. Just shop around a little and you'll see there's really a number of acid-free scrapbook adhesives that will handle the pasting job nicely.
4. Pens
Choose pens that are pigment ink, fade-proof, water-proof, and will keep your scrapbooking layouts safe. You need pens to note down dates, names and write descriptions about your precious moments.
You can also use them to doodle on your layouts.
For starters, you can never go wrong with a black one. It'll see you through countless pages, and matches with everything.
Some brands to consider are Sakura and Zig.
5. Scissors & Trimmers
Next, you need good cutting tools as you'll be cutting lots of paper! A pair of precise, sturdy, and good scissors will see you through much detailed cutting work.
You might want to set aside this pair of scissors for your scrapbooking projects and nothing else.
The Cutter Bee Scissors listed below have many good reviews. I own a pair of Cutter Bee Scissors for a few years now and it does its job very nicely.
Besides a pair of scissors to see you through detailed cutting jobs, get a pair that's good for cutting a variety of craft materials.
If you are left-handed, it can be tricky to find a pair of quality scissors to get you through precise cutting work. So do check out the left-handed scissors listed below. These have been created for left-handed crafters in mind.
A good trimmer will let you slice up your papers in quick, accurate cuts and it will see you through countless scrapbooking sessions. You might want to get one with inexpensive replacement blades, or better yet, a self-sharpening model!
Tip: Make sure yours has a well-marked, built-in ruler that makes measuring a breeze!
If you want to get a trimmer, look through the Fiskars brand. They have a range of trimmers to suit different budgets. Listed below is one of the popular models.
6. Embellishments
Embellishments make scrapbooking so exciting! There are ephemera frames and tags, flower embellishments, journaling cards, die-cut cardstock pieces, decorative chipboards, bling jewels, and more.
The right embellishments can add sparkle and dress up a scrapbook layout. The important thing is to check whether your embellishments enhance and help to pull the page together. If it distracts or jars your senses, it's probably not necessary.
7. Scrapbook Kits
There are different types of scrapbooking kits: Album kits, page kits, and even embellishment kits.
With a scrapbooking page kit, all the coordination work has been done for you and you don't have to wonder how to match this and that, as all the elements are put together to complement each other beautifully.
With many different elements thrown together in a kit, you have a chance to sample many different items which you otherwise might not have a chance to, as it would cost much more to get each item separately.
So if you're at a loss as to what cardstock, patterned paper, and embellishments to get, do look into getting a scrapbook kit to try out.
8. Album
After spending effort on your pages, you'll want to keep them safe and find a place to house them. Enter scrapbooking albums.
It used to be that post-bound scrapbook albums with top-loading page protectors were very popular. These days, the D-ring/three-ring albums are highly popular with their easy-to-insert and easy-to-remove page protector system, making it a breeze to switch pages around.
For post-bound albums, they normally include a number of page protectors with white blank inserts but some do not include these. So be sure to check out the descriptions.
For the D-ring or 3-ring albums, mostly you will have to buy the page protectors separately, so don't be surprised that the album might not come with any page protectors or just a few pages.
Like everything else, albums come in a variety of sizes, formats, textures, designs, and colors. So pick one that fits your personality and sense of style. You'll be working on the same album for quite some time, so get one that you like.
9. Page Protectors
Let's go over page protectors quickly. You will need page protectors to protect the precious scrapbook pages you've created. Don't leave them out in the open unprotected as it might bend your page corners or it might expose your layouts to dust and stains.
If you are buying the D-ring/3-ring albums, you would have to buy the page protectors separately. Some brands such as Dunwell use "universal" page protectors that can fit well for various brands of D-ring/3-ring albums. But do note that their refill pages don't come with any white inserts.
If you are buying a post-bound album that comes with some top-loading page protectors and white page inserts, you might have to buy additional packs of refills as your number of scrapbooking layouts grow.
Make sure that the page protectors you're intending to get are acid-free to protect your lovingly-created pages and that they fit your brand and type of album.
10. Storage & Organization
To round up our Top Ten scrapbooking supplies list, let's look a bit into storage and organization.
Ok, you might think that you don't need any scrapbook organizers when you first start out on scrapbooking. That was what I thought too when I began my scrapping adventure.
So after accumulating many pieces of cardstock and patterned papers in a short span of time, I had a hard time sorting through them looking for what I wanted. Precious time was wasted on searching and the wasted time could have been channeled into productive scrapping time.
Storage and organizers would really help to keep your scrapbooking area clean and organized. There are paper trays, paper holders, embellishment storage, tool storage, and more that you can look into when your scrapbook supplies collection expands.
Do check out my scrapbooking organization articles for more information. But right below are some storage ideas that are great for starters.
Your starter's scrapbooking supplies are now complete. There are many scrapbook products to fit into different budgets. So take your time to get scrapbooking supplies that fit your needs and supplies.
Everyone starts somewhere, so don't worry too much about getting everything perfect. Striving for perfection kind of takes out the fun. So go make a mess and create some scrapbook pages that you'll be enjoying years down the road.
Extra! The Scrapbook Supply that Will Speed Up Your Layout Creations
I realized that having a scrapbook sketch could really help to save me time when I was creating a layout. Sometimes, I could be staring blankly at the photos and papers and have a hard time trying to come up with a nice layout.
Those were the times when I found that having a "map" on the placements of photos, journaling area, and maybe even embellishments could be so helpful and time-saving. So if you want to spend less time not knowing what to do, and want to create more layouts in a shorter time, consider getting a scrapbook sketches e-book.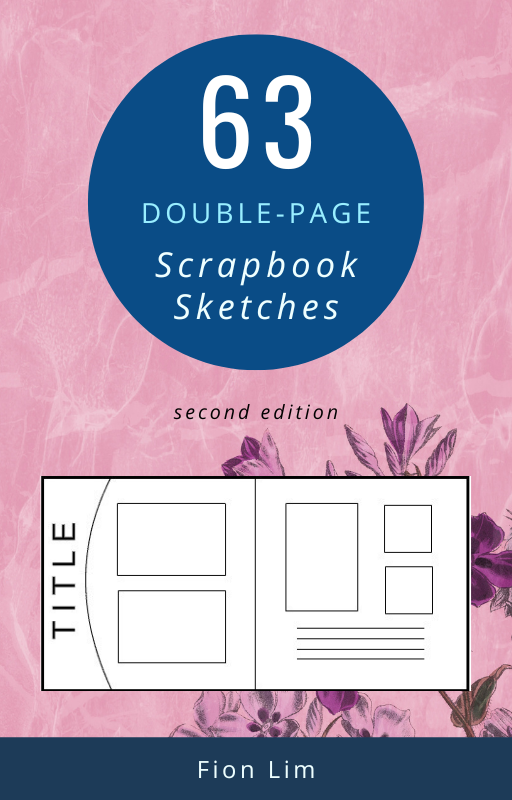 If You Have Time, Do Check These Out…
Don't miss out on the 10 Tips for Scrapbooking on a Budget
Look at the 10 Hottest Scrapbooking Products
Save with Discount Scrapbooking Supplies
Find out Why do We Use Scrapbooking Books
What's good about a Scrapbooking Page Kit